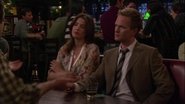 Overzicht
Ted has just met a woman named Holli. He wants to call her right away, but Barney tells him he can't because of the "three day rule". To shut Barney up, Ted promises that he'll follow the rule and not call her for three days. Ted finds what he thinks is a loophole: he'll text her instead. But the one text leads to a series of texts over the course of the day that makes Ted discover that Holli may be his perfect girl. Will he tell her that he loves her? That's what Barney and Marshall believe will happen since it really is Barney and Marshall who Ted has been texting, and Barney and Marshall have been responding pretending to be Holli. Barney stole Ted's phone, into which he changed Holli's cell phone number for his own. Robin finds out about what Barney and Marshall have been doing. Believing it to be mean to their best friend, Robin tells Ted what they did. Ted seeks his revenge by texting back a message which will make Barney and Marshall wonder which of the two really is his best friend. Meanwhile, Barney and Marshall have a memorable afternoon with a large, intimidating security guard named Stan with a romantic side. Will either tell Stan that he loves him?
Overzicht van IMDb.com
Details
Josh Radnor
Theodore "Ted" Evelyn Mosby
Jason Segel
Marshall Eriksen
Cobie Smulders
Robin Charles Scherbatsky, Jr.
Neil Patrick Harris
Barnabus "Barney" Stinson
Alyson Hannigan
Lily Aldrin