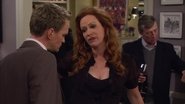 Overzicht
Since Marshall had been busy with work, a stressed Lily singlehandedly planned their housewarming party, and was worried that it was going to be a disaster. Her premonition came true. Over a five minute period during the party, a series of events that took place simultaneously in the living room, dining room and kitchen resulted in what to the untrained eye looked like a confusing mess if knowledge of only what was happening in one of those three rooms was known, but made total sense when viewed from all three rooms combined. Some of the issues and topics of conversation that led to the disaster included Robin's confrontational nature versus Ted's non-confrontational nature, Marshall pondering whether he should refuse boss Garrison Cootes' demand that they return to work in the middle of the party, Mickey's new beekeeping hobby, what happened to a plate of vegan spring rolls, why Lily didn't want anyone to eat the block of Gouda that Marshall served, and Barney's even more than usual adoration of his penis.
Overzicht van IMDb.com
Details
Josh Radnor
Theodore "Ted" Evelyn Mosby
Jason Segel
Marshall Eriksen
Cobie Smulders
Robin Charles Scherbatsky, Jr.
Neil Patrick Harris
Barnabus "Barney" Stinson
Alyson Hannigan
Lily Aldrin